Using an integrated community health approach, the Community Counseling Program (CCP) equips Marines and families with the skills to address life's challenges before there is significant impact to performance in their duties and relationships. The CCP assists Marines and families in accomplishing their personal goals through short-term solution focused counseling, skill enhancement, education and referrals to other helping resources.

The Community Counseling Program utilizes a holistic approach to assist people overcome some of life's most difficult challenges. Our clinicians are independently licensed and credentialed professionals who provide solutions designed to meet your specific needs in the following areas:
Marital Issues
Parent/Child Relationship
Family Issues
Communication
Anger Management
School/Work Issues
Adjustment Issues
Grief and Loss
We are conveniently located on the main side of the base in the lower level of Little Hall and on the west side of the a base at Camp Barrett in Cox Hall. Call us to set up an appointment at one of our two locations.
How It Works
The Community Counseling Program provides a variety of services to meet your counseling needs.
Assessment – A clinician will meet with you to determine your specific counseling needs and to make a plan for achieving the outcomes you desire.
Case Management Services – If you are working with multiple providers and are seeking assistance managing multiple systems or identifying resources, our clinicians are available to assist you.
Counseling Services – We offer individual, couple, and family counseling to children and adults. Our goal is to assist you with identifying solutions to overcome the stressors related to the challenges of life.
Referral Services - If additional resources are needed beyond what is offered at the Community Counseling Program, our clinicians will help you to identify additional resources to meet your specific needs.
The Stress Continuum
One of the major issues we deal with is stress. Stress is the process we use to respond to challenges and can improve performance. But, when stress is extreme or prolonged, it may actually negatively impact performance and/or health.
The Stress Continuum is a simple way to evaluate and monitor your ability to cope and perform when dealing with a stressful situation.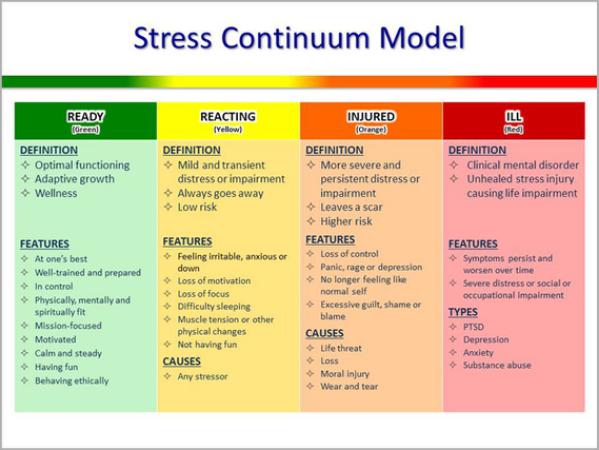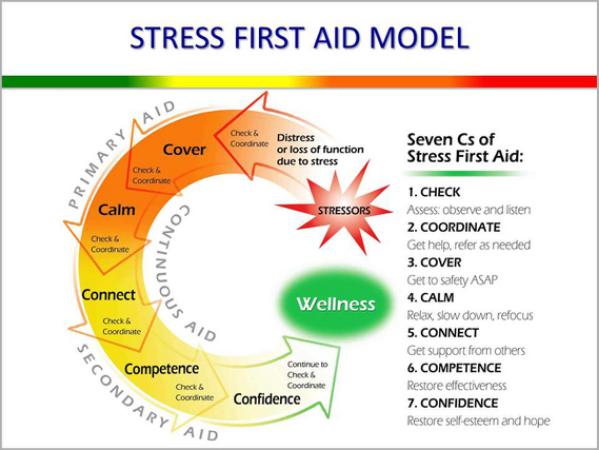 | | |
| --- | --- |
| Monday | 7:30am - 4:30pm |
| Tuesday | 7:30am - 7:00pm |
| Wednesday | 7:30am - 4:30pm |
| Thursday | 7:30am - 4:30pm |
| Friday | 7:30am - 4:30pm |
West Side Location
Cox Hall, Camp Barrett
24009 Montezuma Ave, Quantico, VA
703-784-2570