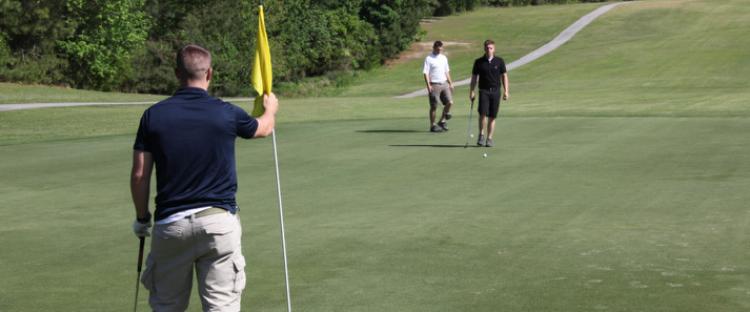 The Golf program consists of open play, golf leagues, tournaments, outings, instructional programs, and exhibitions, events, and youth activities. The program provides recreational opportunities, and promotes and enhances the physical well-being of Marine Corps personnel and their families. Golf retail provides golfing equipment and apparel. Golf course food and beverage activities provide food and refreshments prior to, at the turn, and at the completion of a golf round.
Services
Open play on golf course
Golf leagues
Golf tournaments
Golf outings
Instructional lessons and clinics
Exhibitions
Special events
Golf activities for youth
Retail
Food and beverage
Proper attire required: Collared shirts & Bermuda shorts/skirts.
Golf Course & Driving Range Hours
Monday
8:00am - 7:00pm
Tee Time: 8:00am
Tuesday
8:00am - 7:00pm
Tee Time: 8:00am
Wednesday
8:00am - 7:00pm
Tee Time: 8:00am
Thursday
8:00am - 7:00pm
Tee Time: 8:00am
Friday
8:00am - 7:00pm
Tee Time: 8:00am
Saturday
7:00am - 7:00pm
Tee Time: 8:00am
Sunday
7:00am - 7:00pm
Tee Time: 8:00am
Pro Shop Hours
Monday
7:30am - 4:30pm
Tuesday
7:30am - 4:30pm
Wednesday
7:30am - 4:30pm
Thursday
7:30am - 4:30pm
Friday
7:30am - 4:30pm
Saturday
7:30am - 4:30pm
Sunday
7:30am - 4:30pm